China Drying Network On November 13, 2013, the second patent situation report on equipment manufacturing was held in Changsha, Hunan Province. The Patent Situation Report in the field of equipment manufacturing is jointly organized by the Ministry of Equipment Industry and the Science and Technology Division. The meeting was chaired by Deputy Director Li Wei of the Department of Equipment Industry of the Ministry of Industry and Information Technology, Deputy Director Han Jun of the Department of Science and Technology of the Ministry of Industry and Information Technology, Deputy Director Yang Zhe of the Department of Conservation Coordination of the State Intellectual Property Office, and the Comprehensive Technical Economics Study of the China Shipbuilding Industry Vice President Zhang Xinlong and Deputy Director Zhuo Qun of Hunan Provincial Economy and Information Committee attended the report and delivered speeches.

Equipment manufacturing industry is a basic and strategic industry that provides technical equipment for the development of national economy and national defense construction. It is a concentrated expression of national comprehensive strength and technological level, and also an important guarantee for industrial upgrading and technological progress. At the report meeting, the China Automotive Engineering Research Institute, the China National Comprehensive Technical and Economic Research Institute of Shipbuilding Industry, the Institute of Mechanical Industry Information, and the Institute of Instrument Technology, Integrated Technology and Economics of Machinery Industry, and other units respectively made new energy vehicle power systems and hybrid vehicles. Patent situation reports in marine diesel engines, marine equipment dynamic positioning systems, bearings and instrumentation.

The report shows that in 2012 China's equipment manufacturing patent applications reached a record high, accounting for 28.1% of the national patent applications, of which the invention patent area accounted for 34.8% in the country, an increase of 5.5%. In the field of new energy vehicle power systems, China's own brand enterprises have already had a certain degree of competitiveness in this field and gradually overtake the trend. In the field of hybrid vehicles, vehicle control, system architecture and energy management are hot technologies, and Japan's The technology in this field has advantages; in the field of marine diesel engines, the global patent applications are mainly concentrated in Japan, China, the United States, and South Korea. Exhaust devices and intelligent electronic control technologies are currently hot spots for research and development; in the field of marine engineering equipment dynamic positioning systems, China The market has attracted much attention. Powerful countries such as Norway and the United States have strengthened patent applications in China. In the field of bearings, patents for global bearings have focused on sensor devices, seals, and lubricants in recent years. Currently, bearing giants in the world are widely used in China. Develop a patent layout; In the field of instruments and meters, the core technology of the backbone products of programmable controllers, pressure transmitters, etc. The patents of foreign companies have a clear layout, while the number of patent applications for monitoring instruments for new pollutants such as heavy metals, PM2.5, and oil in water less.

The patent situation report in the field of equipment manufacturing will actively promote industrialization construction, effectively give play to the guidance and early warning of patent situation information to the development of the industry, and promote the innovation, application, protection, and management of intellectual property rights in all industries of the equipment manufacturing industry. Promote the role. A total of more than 80 representatives from relevant local equipment industry authorities, relevant industry associations, industry leaders and news media attended the meeting.

our dished heads are used in a variety of applications and industries such as storage tanks, pressure vessels, road tank, food processing operations, chemical plants ,Nuclear operation, Oil Refining, Architectural feature, power generation.

Due to our forming experience and equipment, we can spin or press the first part of the process of forming your products, It depend on the thickness and material performance,

Our main products are 2:1 SE dished heads, Torispherical heads, Cones,Hemispherical Heads etc

Choosing the right type is the key decision for each customer and one for which our experience team to happy to give advice, simple speaking, the torispherical heads, the less ressure it can withstand, Conversely, the deeper dished heads, for example Elliptical heads, hemispherical, the greater pressure it can take.

Our in house-capability to form dished heads by cold press brings major benefits to our customers and sets us apart from others dished heads manufactures

For carbon steel dished heads, we can forming this dished heads from 76-9000mm in diameter and below 250mm in thickness

The general forming process as the below sketches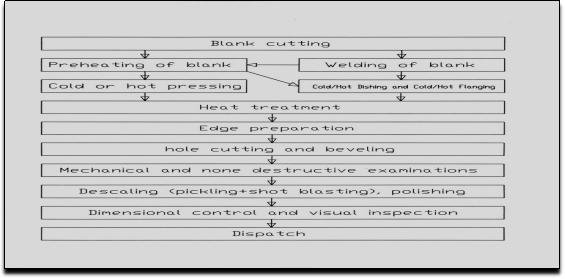 Technical Delivery Condition
1,Our material (hot Rolled Unalloyed structural steel, high and low temperature steel, High Alloy steel)
We have no carbon steel plates in our stock and most of plates are from Chinese steel market or mill. Meanwhile As Japanese owed company, We can also source the plates from Japanese ex-mill if end user can`t accept ex-chinese mill.
Basically the delivery time shall be below 20days for dished heads if plates are from steel market. and Max plates width from them is below 2200mm. it means that the seamless dished heads diameter shall be below about 1800mm.
The max width CS plates that Chinese mill can do is below 4700mm,and dished heads can be seamless below 3800mm in diameter.




2,Enquiry/order required information

We can give our clients once they gave us the below information

But if clients tolerance is higher than below Hokkai standards, it shall be provided to Hokkai prior to offer or ordering.



Stainless Steel Cone Head,Stainless Carbon Steel Cone Head,Stainless Steel Cone-Shaped Head,Quality Stainless Steel Cone Head

YIXING HOKKAI HEAD PLATE CO.,LTD , http://www.hokkaidishedend.com