With the assessment certificate obtained by Kunming

Yunnei Power

Co., Ltd. (hereinafter referred to as "the company") through the initial review of the two-in-one integration management system in 2016, it expired in July 2019 and the "Informatization and Industrialization Integration Management System + Requirements" ( GBT+23001-2017) The implementation of the new version of the national standard, the information center in advance in 2018 to plan the company's two-integrated management system re-certification and revision work, through the leadership, departments, workshops, strong support and active cooperation, in 2019 In July, it passed the re-certification audit of the Ministry of Industry and Information Technology's five-in-one integration management system, and obtained the certificate of the two-integrated management system.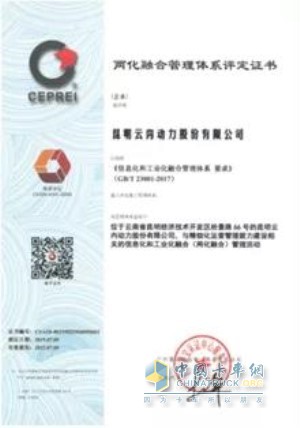 Kunming Yunnei Power Co., Ltd. obtained the certificate of two-in-one integration management system

In recent years, we have continuously explored the application of new modes of intelligent manufacturing and the digital transformation path, and carried out and implemented the "R&D Management Platform", "Operation Management Platform", "Intelligent Manufacturing Platform" and "After-sales Service Platform" around the product life cycle management. Through the construction of four major platforms, through informationization construction, production line construction and transformation, etc., we will promote industrialization with informationization and promote informationization with industrialization, and gradually promote the in-depth integration of information and industrialization of the company to realize R&D, manufacturing, logistics, after-sales and management. The integration and optimization of the other links will comprehensively improve the resource allocation optimization, operation automation, production management refinement and scientific level of intelligent decision-making.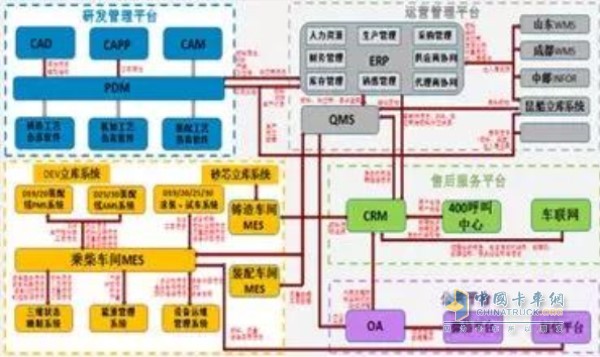 Two-in-one integration management system

The two-integrated management system evaluation certificate is an affirmation of the work done in the integration of the two, and promotes the standardization of the two-in-one integration management work, pointing out the direction for the planning and construction of informationization and industrialization. Yunnei Power will always adhere to the two-integration policy of "strategic guidance, overall planning, information support, integration efficiency, safety and practicality, continuous optimization", and promote the digital technology research and development capability and intelligence by promoting the deep integration of the company's industrialization and informationization. Manufacturing capacity, refined operational management capabilities, personalized after-sales service support capabilities, take a new road to industrialization, enhance comprehensive strength and competitiveness.

Reading volume: Source: cloud power Author: Le Feng

European Type Industrial Casters

Motorized Industrial Casters,Large Industrial Casters,Industrial Dolly Wheels,Industrial Style Casters

Kaiping City Sunnywah Electronic CO.,LTD , https://www.knightcasters.com